Plug-n-Go Computer System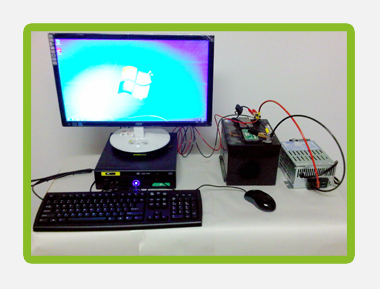 Product Details
The key difference in our Plug-N-Go Computer System is the fact that it will run directly from a ~12V battery. Our system is specifically designed to handle a wide input, so it can be connected to a battery during charging (when the voltage can go significantly above 12V) and during long use of the battery, when the voltage will go down. Our computers will function on any voltage from ~6V to ~24V DC (Direct Current - this is what comes from a battery).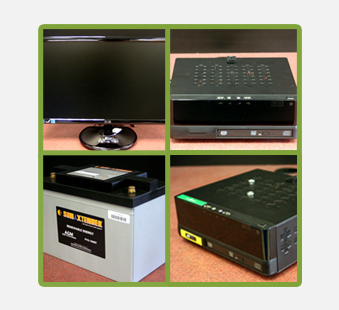 Here's a summary of the specifications for our Plug-N-Go computer system:
Processor: Dual core, 1.8GHz (Intel Atom D525)
Ram: 2GB DDR3 800 (max supported is 4GB)
Hard drive: ~60GB SSD (Solid State Drive - the exact size depends on the exact brand and model of drive available when we build our systems)
Optical Drive: DVD/CD burner
Network LAN: 10/100/1000 ethernet plus internal wifi
Audio: 6 channels
Video connection: VGA (D-Sub)
USB: Rear - 4x USB2, front 2X USB2
Monitor: ~22 inch LED/LCD
Includes keyboard and mouse
In general, this computer is designed to run typical office applications very well. It's designed for the business customer who needs a reliable running computer in an off grid power area or an environment where there is unreliable power from the electrical grid or generators, general computer power supply problems or the cost for diesel to power generators is very high.
Not Just for the Office
Even though this computer was designed for an office environment (small business, medium and large corporations), it's also perfect for families to use at home. People who are serious about having reliable and powerful computers at home should strongly consider buying a Plug-N-Go. With its reliability and rugged design, you don't have to depend on the power grid any more to access important information and knowledge from the Internet, and get quality work done from home.
Students in colleges and Universities, among others, will also greatly appreciate the reliability and durability our PNG computer offers.
There are many potential users for the Plug-N-Go, including:
Homes
Offices/Businesses
Colleges/Universities (students and staff)
Hospitals
Churches and Religious Outreach Centers
Non-Profit Organizations (NGOs)
Long Lasting and Infrequent Charging
The Plug-N-Go battery powered desktop computer looks at reliability and extremely low power consumption with snappy performance and a large screen. It is perfectly designed for the professional who works in an office environment with very unreliable and/or expensive electricity supply. The product is built around a compact small form factor (SFF) case to allow reasonable portability and will not consume very much office or desk-top space.
Our Plug-N-Go computer system is the only desktop computer system on the market that's specifically designed to operate for over 12 hours after a single 2-hour charging period. This is accomplished by our extra high power industrial battery charger that is rated at 45amps, along with our special sealed 12V battery that is designed to accept this extremely aggressive, rapid charging cycle.
For you, the user, this means that only once a 24-hour day it is necessary to have power to the system for 2 hours to obtain a 12+ hour charge in the battery. This means that if power is supplied from the electrical grid or from a generator for a minimum of 2 hours in a day, you can accomplish a full days work or business.
All the Power and Versatility of a "Regular" Computer
2GB RAM supports all the functions of the computer in an efficient way. The built in ultra thin DVD burner will play DVD movies, and play or burn DVD or CD data disks. You can enjoy watching DVD movies on the large 22" HDTV type monitor.
The computing power of this model can easily handle typical business applications such as MS Office, POS (Point of Sale) applications, email, internet surfing, etc. The internal wifi (wireless network) hardware has no external antenna to get damaged or break.
Unlike nearly all laptops that have very model-specific hardware and are difficult to service, this Plug-N-Go computer system can be mostly serviced with off-the-shelf components, if there is ever a need for repair or upgrades.
The versatility can be expanded via use of the included PCI expansion slot with room for PCI cards that are less than half-height.
The operating system is Microsoft Windows 7 Home Premium.
---
The above-mentioned hardware specifications comes default with the Plug-N-Go computer package, but the Plug-N-Go Computer is fully customizable. We assemble and build the computer system according to your needs and preferences, or to the needs of your customers if you are a distributor.
Interested in having your very own Plug N Go Computer? Contact us for your inquiries.

Like this website?